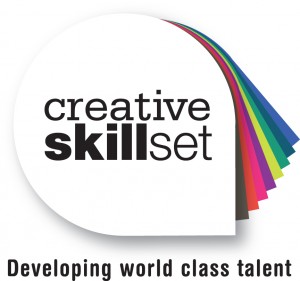 Creative Skillset is the UK-wide strategic skills body for the Creative Industries, covering film, television, radio, fashion, animation, games, visual effects, textiles, publishing, advertising, marketing communications and performing arts.
It supports skills and training for people and businesses to ensure the UK Creative Industries maintain their world class position. This is done by influencing and shaping policy, ensuring quality and by securing the vital investment for individuals to become the best in their field and for businesses to grow.
Through co-investment, Creative Skillset manages a range of training funds raised from both industry and Government aimed at delivering solutions for skills development.
Creative Skillset develops qualifications to ensure skills are fit for the 21st Century for the competitive benefit of the Creative Industries. In addition, education courses are accredited via the Creative Skillset Tick, a rigorous assessment process conducted by experts working in the Creative Industries. It provides an indication that courses have the strongest links with industry and ensures they keep up with the rapid pace of creative change.
Creative Skillset tries to ensure those entering the industry are well prepared by offering high quality and realistic careers information. And, as research leaders, Creative Skillset examines the size and shape of the Creative Industries, in order to understand the needs of employers and the workforce, investigating existing training provisions and scoping out future needs.
For more information about Creative Skillset, please visit: creativeskillset.org